The Micro Holiday Gift Guide for your Preschooler
Micro offers a handful of options for your preschoolers! These stylish rides are the top-rated, most-have gifts for the holidays. Check out the different models and features below. Micro scooters are built to last and are made with high-quality construction, so you can rest-assured that your kiddo is riding the safest scooter as they master balance and coordination.
If you're looking for a ride that lasts longer than the typical year or two, check out the Mini 3in1 Deluxe! This scooter is designed for our youngest Micro riders - starting at age one and growing to age five! Stage one offers a seated ride-on, then grows to a stand-on scooter with an adjustable handlebar. Available in pink, blue, and red, this stylish ride-on is sure to be a favorite! With it's intuitive lean-to-steer design, you'll be amazed at how quickly your child learns to cruise. $125.
SHOP THE MINI 3IN1 DELUX
---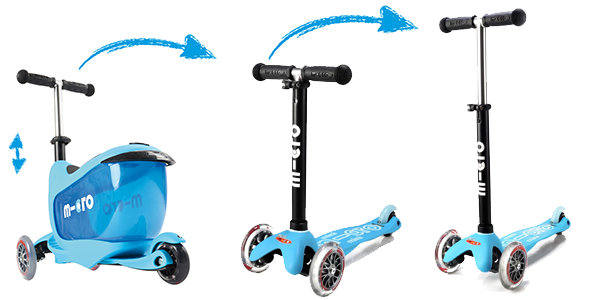 The Mini2Go is perfect for a young preschooler! Designed for ages 18 months - 5 years, the Mini2go begins as a ride-on toy and transitions into a stand-on scooter when your child is ready. In it's earliest, ride-on stage, your child will have loads of fun, scooting around and storing toys in the drawer underneath the seat - perfect for carrying around their most prized posessions. In stage two, the Mini2go offers a stand-on scooter with a low t-bar, generally for ages 2-3. The t-bar adjusts from 14" - 24", allowing this scooter to grow with your child through age 5 (or 75 lbs). Available in four colors, $129.99.
SHOP THE MINI2GO DELUX
---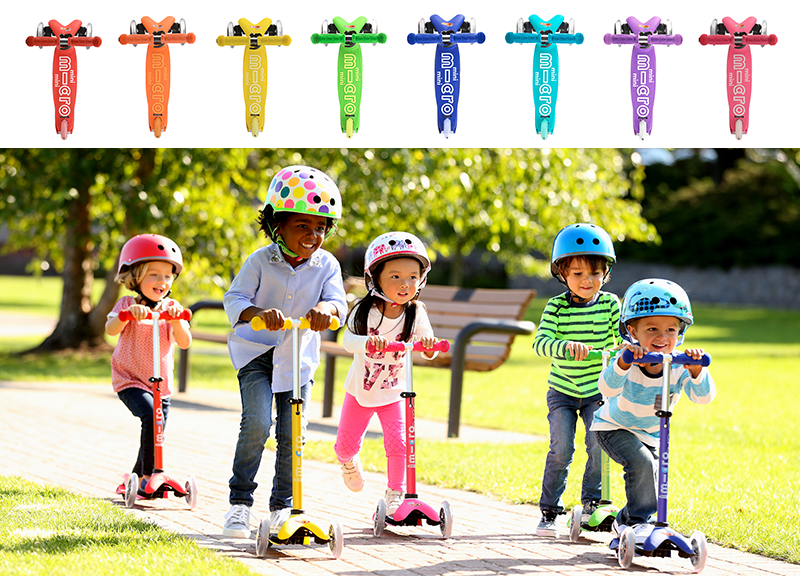 The Mini Deluxe scooter is an iconic ride of Micro. It's lean-to-steer, Swiss-design is easy to learn and fun to master! Children can curve and carve and enhance fine motor skills as they learn to manuever this sleek ride. Lightweight and easy to transport, the Mini Deluxe grows with your child with the extendable t-bar from ages 2-5, or when they reach 75 pounds. This ride offers all of the same features as the Mini original, adding the adjustable t-bar, an anodized stem to prevent corrosion, and extra grip on the deck for support as they cruise through the neighborhood. Available in 8 colors, $95.SHOP THE MINI DELUX
---
Balance bikes are a great tool to help your young child learn to ride a bike without the assistance of training wheels! Using their feet to propel forward, young tots get their sense of balance early. Micro's newest balance bike - the G-bike Chopper is the most lightweight balance bike on the market - weighing only 4 pounds! Easy to manuever and carry, the Chopper comes in three stylish colors - black, white, and chrome. Kids will love cruising around with these wide, 'chopper-style' handlebars! $129.99.
Do you have any questions? We are happy to help! Give our team of scooter geniuses a call at 888-236-5657, Monday-Friday 9am-5pm EST or e-mail us at info@microkickboard.com. We will get your kiddo scooting in no time!
---