The buzz about Micro Kickboard is that Micro offers the best scooters and kickboards for toddlers and preschoolers. Maybe you've read the reviews, or seen it in the Celebrity Press but you've also noticed Micro scooters cost a bit more, and you want to know more! 
1) Swiss Quality
Micro is a Swiss company that loves design, and it shows. Micro's minimalist design combines with quality materials and precision engineering to create scooters which are exceptionally strong, yet also lightweight. The tight construction feels solid while you are riding, creating a smooth, quiet ride. There's no shake and rattle when you roll on a Micro.
2) 
The Scooter you never have to throw away! 
Micro designed all of their scooters so that every part is replaceable. Whether it's a wheel that wears down or a just a set of new hand grips, we have the replacement part and the easy instructions. The result is that your Micro can last virtually forever. Parents sometimes send us photos of three kids with the ONE Mini they all shared: when the eldest child grew out of it, it got passed on to the next child, and the next. While it's possible that your Mini will last years without ever needing a replacement part, you can rest assured if one is needed, we will have it.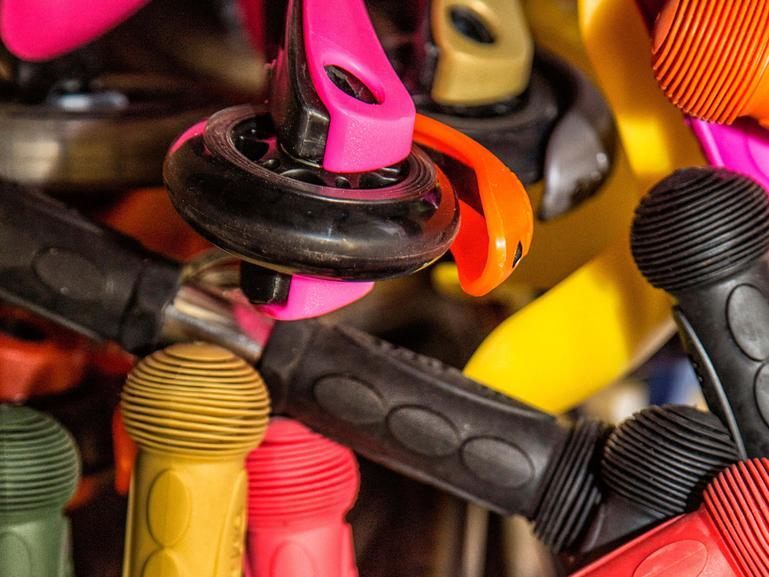 3) Unparalleled Glide
Micro's smooth glide is beyond compare. With features including wheels made of extra-thick polyurethane (PU), and a flexible deck constructed of fiberglass-reinforced ABS plastic, Micro scooters and kickboards absorb the bumps, and offer a smoother, shock-absorbing ride that is both more comfortable and more stable.
4) Safety First
Our range of Swiss designed and engineered scooters are renowned for their durability. Expertly crafted to be long-lasting and robust, every single Micro scooter undergoes a gauntlet of tests to ensure it can withstand all of the pressure a child or adult can throw at it.
Micro's Mini is a kickboard™ style scooter with two wheels in front and one in back, improving stability for young kids.
5) Lean-to-Steer: more fun, at every age
Micro's three-wheeled kickboard-style ride offers the advantage of being significantly more stable for the youngest riders, while also offering a more fun ride as your child gets older. To steer a kickboard-style scooter, children use their body weight to lean right or left, resulting in the scooter curving right or left. Little ones make gentle, stable turns, while the older ones gradually learn to lean into the turns a little more dramatically (see photo below) creating a feeling of 'surfing' the sidewalks. This weight-shifting skill is one they can use later in life, in sports such as skiing, golfing, and surfing. Additionally, doctors say the "Lean-to-Steer" helps young children develop balance and coordination. 
4-year-old demonstrating "Lean-to-Steer" on a Mini
6) Designed so kids can be in control
Kids are the BOSS of the Mini and Maxi scooters. They are perfectly proportioned for young kids, and so lightweight that even the youngest child can pick it up to turn it around or carry it, easily and safely. The deck is low-to-the-ground (just one inch away!) making it easy for kids to to step on and off with confidence.

7) A Scooter you can use for transport
Is it necessary for a scooter ride to feel 'comfortable'? Only if you want to make it further than a block or two. We've already covered some of the reasons for the Micro's smooth glide, but it's features like the quality rubber hand grips that will help your little one's hands absorb the bumps so that they can go the distance (often miles and miles). Lower quality plastic decks and hand grips will cause discomfort in a short period of time. Many families use their Micros for trips to the park or school, and for or sightseeing on family vacations. It's a great way to get around with little ones that builds confidence while offering your child fun and exercise.
8) Nice Style + Cool Colors
Everyone likes to have a cool ride, even preschoolers! You can always count on Micro to keep the colors and styles fresh and fun. With a rainbow of different color options, and even more accessories, your child will undoubtedly have the coolest ride on the block!
9) Micro Scooters for the Entire Family
There's a Micro for everyone in your family, from the the youngest member to the oldest, and everyone in between. Our convertible sit and ride scooter, the Mini 3in1 Deluxe Plus, is designed for children as young as 12 months. It may be optimistic thinking, but we like to say that Micro has a scooter for everyone, from ages 1 to 100.
Don't just take it from us!  
Micro was just recognized by Wirecutter (a New York Times company) for having the best scooters for kids. Click here to see what they had to say!
Just bought a new scooter?
Fill out your warranty form here.
POSSIBLE ADDITIONAL INFO TO INCLUDE BELOW 
History of Micro Kickboard
In 1999, Swiss company Micro Mobility helped kick off the scooter revolution by introducing an innovative new scooter and licensing it to Razor/JD Sports. Success came from its unique combination of polyurethane wheels, aircraft grade aluminum, and folding mechanism. It was faster, more compact, and lightweight than other scooters on the market at the time, and it provided a scooter that could be used as everyday transport for 'micro' distances.
Micro's next innovation was the Kickboard™, a 3-wheel scooter originally designed for adults. When Micro created the Mini, it used the Kickboard™ design, adding child-friendly features to make it manageable for young children. The Mini is now popular around the world, with frequent appearances in celebrity press.
Built to Last
Precision engineering using only the finest parts choosing a Micro scooter means, that unlike other gifts you and your children will still be on your scooters next year, the year after that and the year after that. To borrow a phrase, a Micro scooter is for life not just for Christmas.
The Original
Wim Ouboter designed the first folding aluminium scooter 20 years ago as a way to cover short distances quickly and conveniently. Fast forward nearly a quarter of a century and his design genius has resulted in the multi award winning Micro children's range - used by millions on the school run every single day. His innovative thinking, quest for something more and design genius resulted in him being named as one of the Top 10 toy inventors of all time.
Extraordinary Everydays
The Micro scooter is the original aluminium scooter that changed the world. Robust, simple to use and fun, they are easy to store and transport helping you to discover, enjoy and explore the world at your own speed. We passionately believe a Micro scooter can transform the way people get around in this fast-moving world. From revolutionizing the school run, making the commute a breeze or for families seeking adventure there are many ways people have embraced scooting. Taking on the world and winning is one of our favorite adventures.
Replacement Parts
All Micro scooters are precision engineered with exquisite attention to detail. A fundamental part of the iconic design is to ensure that parts of the scooter can be repaired or replaced. By doing so its means you can always substitute worn out parts when needed ensuring the scooter has a never ending life and doesn't end up in a landfill.
Quality and safety are our top priority
Our products are characterized by an extraordinarily high quality and durability. We only use carefully selected raw materials and resources. New products go through a strict quality control system with various test procedures at every development and production stage. This ensures that all requirements for national and international safety standards are met.

The components of our scooters are carefully selected. To protect the environment, only non-toxic foams are used for the handles. Most parts are bolted together rather than welded, making them easy to swap out if necessary.
Our products have an above-average lifespan
Contrary to today's throwaway society, micro products are made to last. We offer a worldwide unique repair and spare parts service for every product. Our own global sales and service network guarantees professional maintenance of our products, which has a positive effect on their service life and protects resources.
Sustainability and social responsibility
Micro takes responsibility for the environment and society. Since the launch of the first scooters, we have always striven to create somewhat of a countertrend to our throwaway society through high-quality, durable products.
Micro is the only scooter manufacturer in the world to offer a repair and spare parts service, this also contributes to the durability of our products. And, when the end of the life cycle has been reached, our aluminium chassis can be recycled anywhere. This is another reason why we never seriously thought of offering a carbon model.
The handlebars of our kids' products are height-adjustable and grow with the child. A Mini Micro 3in1, for example, is in use for an average of four years. Compared to a McDonald's toy, which is used no more than a few hours, or a Barbie doll, which at best the child plays with for a year, this number is considerable.
ECO Kid's Scooter from recycled plastic
The ECO product line is another step towards sustainability for Micro. The use of "green" plastic means a reduction of not only marine pollution and the loss of valuable resources but also of the ecological footprint by up to 82% CO2 emissions compared to new plastic. For more information about the ECO Kid's Scooters click here.